New Build to Suit Warehouse of 40.000 m2 for Hollister at Roosendaal
24-03-2017, Door: HVBM Vastgoed
HVBM Vastgoed B.V. and Wouda Invest B.V. concluded a long-term lease agreement with Hollister Services B.V. for a new warehouse at the Borchwerf II Business Area. The lease agreement provides for 30.000 m² logistics space, 3.560 m² mezzanine and 1.080 m² office space. The Hollister distribution center will be completed at the end of 2017.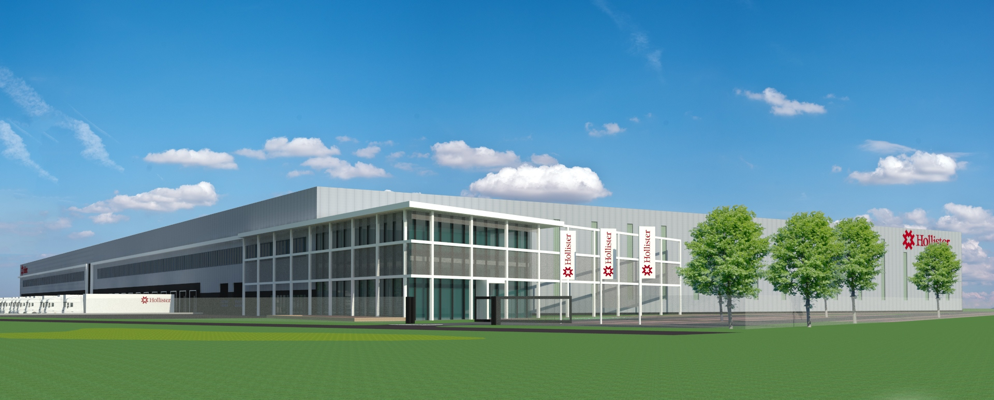 Serving Healthcare Professionals and Patients Worldwide
Hollister Incorporated is an independent, employee-owned company. It develops, manufactures, and markets healthcare products and services worldwide. Hollister has been serving healthcare professionals and patients for more than 95 years. The company is making a difference in the life for people throughout the global community.

Expansion of Manufacturing Capacity
Job Sonke, Manager European Distribution Center for Hollister Incorporated: "Our continued success in Europe necessitates expansion of our manufacturing capacity in the European region. As Hollister grows, distribution capacity must keep pace."

Preparing the Hollister Warehouse Development
HVBM Vastgoed is in close cooperation with Groenewout (consultants on behalf of Hollister) and the construction team preparing the development of the new warehouse. Adriaan Molenschot, director HVBM Vastgoed: "A large-scale Build to Suit development of a logistics center for cooperate tenant Hollister within one year, that is our challenge and strength!"
Extra Expansion Capacity
The new warehouse provides expansion capacity for 11.000 m² of logistics space, 1.200 m² mezzanine and 140 m² office. The extra capacity which will be immediately realized. Hereby HVBM Vastgoed meets the growth ambitions of Hollister. In the intervening period, this high-quality warehouse will be offered to the market.

Cushman & Wakefield connected the VOF partners HVBM Vastgoed and Wouda Invest.
Terug naar het nieuwsoverzicht